Welcome Santos Family
Item
Description
Dr. Meinardo and Ann Santos attending a class reunion in the Philippines with their children. Dr. Santos may have been awarded his Certificate of Merit at this event.
Spatial Coverage
Bocaue, Bulacan, Philippines
Source
Contributed to the collection by The Santos Family, provided to the LVEHC by the Sigal Museum.
Item sets
Site pages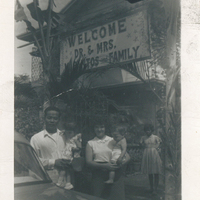 DNC_118.jpg
New Tags